"Ever since I can remember, I have loved horses."
– Kamila Dupont
Kamila Dupont was introduced to dressage as a teenager in Bedford, New York, and instantly captivated!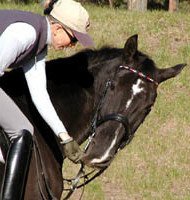 Since that day, her burning desire to master dressage has led her on wonderful adventures she could have never imaged. From living in Germany for seven years as an active competitor to becoming a gold medalist at three Olympic Festivals, Kamila's background gives her an unparalleled understanding of the international world of dressage which she infuses into her teaching philosophy.
As a child, Kamila started riding in Florida on Welsh ponies. She was taught by a retired cavalry officer who gave her the basics of
dressage on what she thought were his "big" horses!  When her family moved to Bedford, NY, she joined Pony Club and began to compete in horse trials. Her first official dressage teacher was a German trainer who coached the US Team for the Pan Am Games. Herr Waetjen and his wife, made a lasting impression on Kamila.
Kamila later moved to California where respected coach, Hilda Gurney, urged Kamila to start teaching. Kamila's sponsor, Alix Fargo, gave her the wonderful opportunity to train and compete in Germany. Through the support of both Hilda and Alix, Kamila was given her a vision and feel for classical training, riding and teaching.
Influenced by her classical training with George Theoderescu,  Kyra Kyrklund, Herbert Rehbein,  Klaus Balkenhol and Jonnie Hilbarath, she also puts great value in the American concepts of innovation and openness.  Today, she has a full service training/boarding stable in the hills above Malibu, just north of Los Angeles, California. Since returning to California in 2006, her mission has been to impart her knowledge to the horses and the students in her care, and encourage any others who might follow her path.